What is

Thinlet-Helper is a jEdit plugin. Its aim is to help developers and GUI designers working with the great Thinlet GUI Toolkit created by Robert Bajzat. Using Thinlet-Helper, it is possible to take complete control over the development and modification of a Thinlet GUI. You can at any moment, while changing the xml code of a Thinlet document, see in real time the effect of your modifications on the GUI itself.


What is NOT

Thinlet-Helper is not a Thinlet RAD. If you need one, I recommend the optimum Theodore by Wolf Paulus at : http://www.carlsbadcubes.com/theodore/


Screenshot

The screenshot below shows Thinlet-Helper parsing a simple thinlet document. The upper frame contains Thinlet-Helper toolbar, while the lower one shows the thinlet xml document resulting GUI.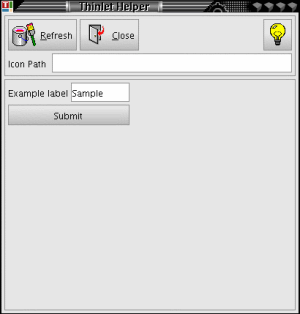 Download

To download version 1.0 of Thinlet-Helper (updated to Thinlet version of March 7,2004) please click here (99 KB)


Installation

Just copy the jar file in the "jars" directory of your JEDIT_HOME path and restart jedit.




Credits